12:08, 06/02/2023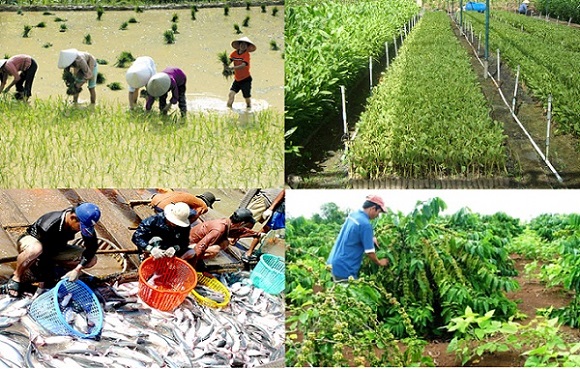 To review and rearrange inefficient cooperatives in Vietnam (Internet image)
In order to continue to innovate, develop and improve the efficiency of the collective economy in the new period, the Government of Vietnam directs a number of solutions and tasks such as:
1. Innovating and improving the quality and operational efficiency of collective economic organizations in Vietnam
- Having appropriate policies to focus on definitively solving outstanding problems of the collective economy, including:
+ Long-term outstanding debts in cooperatives (debts from the state, debts to banks, debts to other economic organizations, debts to members, debt members of cooperatives, and so on); cooperative property relations; the mechanism for dealing with the cooperative's collateral, particularly those related to land.
+ Reviewing and rearranging inefficient cooperatives; definitively dealing with cooperatives that cease to operate, await dissolution, or have not yet been transformed or reorganized in accordance with law; restructuring credit cooperatives, especially those dealing with a number of weak credit cooperatives.
- Perfecting mechanisms and policies to create conditions that promote the spirit of democracy, voluntariness, autonomy, and self-responsibility of members in collective economic organizations; combining economic motivation with spiritual motivation; and arousing the mass movement of the people to participate in the development of collective economic organizations.
- Having mechanisms and policies in place to encourage the growth of contributed capital and capital mobilized from members in order to increase operating capital, investment and development capital, and assets and undivided funds of collective economic organizations;
Carrying out internal credit activities, establishing enterprises at eligible collective economic organizations; research and entrusting a number of public services to collective economic organizations;
Encouraging economic linkages among collective economic organizations operating in the same industry or field; and researching and piloting a number of cooperative federations operating with high specialization in a number of industries and fields.
- Strengthening linkages between collective economic organizations and other economic sectors, especially links with state-owned enterprises.
State enterprises give priority to support for association, consumption, and use of products and services, creating conditions for collective economic organizations to operate effectively; and overcoming the lack of linkage between the state economy and the collective economy.
Encouraging collective economic organizations to associate with economic groups and enterprises to participate in supply chains and value chains, especially in supporting industries.
2. Continuing to innovate and perfect mechanisms and policies to encourage and support collective economic development in Vietnam
- Completing the collective economy legal framework with various forms of cooperative economic organizations, ranging from low to high (cooperative groups, cooperatives, unions of cooperatives,...), and representative organizations to improve capital mobilization, increase capital accumulation, and create common assets.
Improving transparency in management and administration; improving the efficiency and quality of the state's support policies and state management of the collective economy; ensuring the consistency and synchronization of the legal system; creating a favorable business environment; and helping collective economic organizations develop sustainably.
- Reviewing, amending, and supplementing preferential policies, and assisting in the development of the collective economy in the direction of considering collective economic organizations as appropriate subjects to combine state investment with investment in the management of the people's collective (public investment - community governance).
The State has specific mechanisms and policies for the collective economy. Develop a master program on collective economic development on a national scale to unify and concentrate resources, suitable to the development requirements of the collective economy and the country's socio-economic development conditions in each period.
Allocating adequate funding from the state budget to ensure the effective implementation of policies to support and develop the collective economy.
More details can be found in Resolution 09/NQ-CP dated 02/02/2023.
Nguyen Nhu Mai